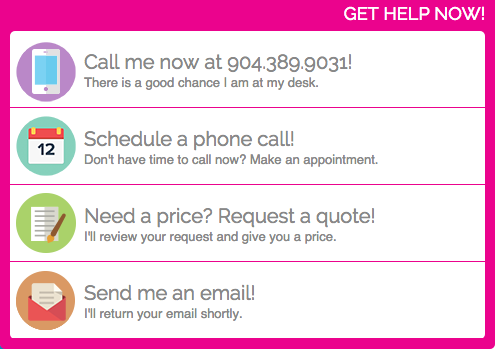 I've done a little updating to my site to make it easier for YOU to schedule MY time. Crazy right? I know. I live on the edge. I added a bright pink "Get Help Now!" button in the upper right so you can get to the things you need most often (like my phone number, requesting quotes, and sending emails.)
Schedule a phone call: The newest feature of the site is a "Schedule a phone call" area. Now you can review my schedule and availability and choose a time to talk if you don't have the time to pick up the phone right that second.
Where is Lena?: And, for my customers who are in a different time zone, you can see whether I am in the office or not by looking in the phone area. It will say "Call me now" or give you a countdown until I am back in the office. The email area works similarly.
Request a Quote: This is an area where you can choose the type of project you have and give me some information so I can give you a quote.
I look forward to connecting with you!