Electronic Newsletters and eBlasts
Sending an Eblast is a great and inexpensive way to reach your customers.
I can design a single email template that matches your website or maybe you want several to choose from depending upon your needs. Or we can create a clean simple template that will work across all email and mobile devices.
I will make sure your emails look great in all the major email programs and on mobile devices.
You can have account access to send your own campaigns and manage your own lists and subscribers or I can handle all the details for you.
Easy interface allows you to login and send your eblasts immediately, or schedule them for a later date.
All the messy stuff like bounces and unsubscribes are taken care of automatically.
Need personalization or auto-responders? You're covered.
Reporting and analytics: Great looking reports that let you measure the effectiveness of every campaign you send.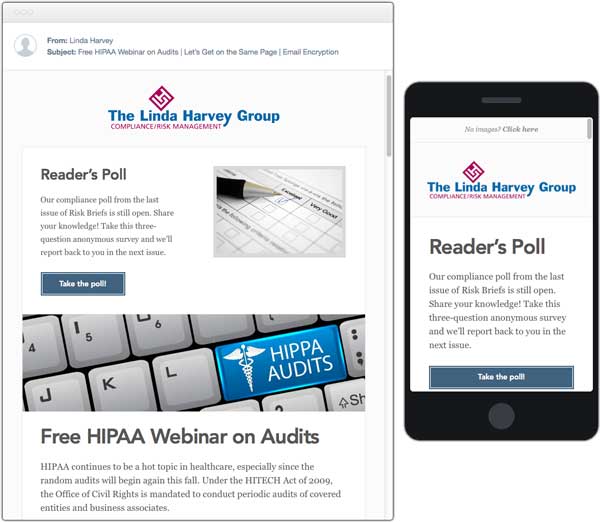 Create and send great looking emails
Autoresponders
A/B Split Testing
See your email in 20+ email clients
Re-usable templates
Simple WYSIWYG editor
Personalization
Forward to a Friend
Send in any time zone
Run your email through popular spam filters
Free campaign archive
Powerful reports on the results
Manage lists and subscribers
Unlimited number of lists
Subscribe forms for your site
Customize the subscribe process
Confirmed Opt-in
Suppression lists
Customize the unsubscribe process
Custom fields
Segmentation
Manage your subscribers
Export to Excel
Track list growth via RSS
Flexible import process
Reporting and analytics
Great looking interactive charts
Google Analytics integration
Open and click tracking
Forward to a Friend report
Unsubscribe reports
See which email client subscribers are using
Bounce reports
Spam complaint reports
Track conversions and ROI
Compare multiple campaigns
Full activity for each subscriber
Export reports to Excel
Top notch deliverability
Costs
Account set up
One time charge of $50.00 to set up your account in the eblast system. (Included with website design)
Template building
Template pricing usually falls between $100 – $200. This template can be reused with no addtional build charges. Simple templates are less, while more complex, multi-columned templates increase the price. Talk to me about your needs so I can determine an actual cost. I can create most any template style you want. Below are a few samples.
Costs to Send
Approximately $10.00 + 2 cents per email for a mailing list up to 500.

Cost Example 1: You have a list of 100 recipients and send a campaign. Your cost is (100 x $0.02) + $10.00 = $12.00
Cost Example 2: You have a list of 500 recipients and send a campaign. Your cost is (500 x $0.02) + $10.00 = $20.00

Monthly subscriptions are available and are a better deal if you are sending more than 1 email a month. Let me know the size of your mailing list to determine a price.
Buy credits in bulk. This is another way to save more. 500,000 credits never expire and start at $600.
Security
Your data is secure. There is both hardware and software protection to ensure nobody else has access to your account and the information it contains.
The dedicated server that stores your information requires proximity cards and PIN to enter the building, fingerprint access, and your server is in locked cage. Additionally there is video surveillance, and vibration detection.
Software security has several layers of protection including a firewall, OS security preventing outside access, and constant maintenance of security patches. The databases themselves are secured by additional access restrictions, and sensitive data is encrypted within the database. There is also SSL for passing credit card information to prevent interception.
Backups?
Yep and lots of them. If something goes wrong everything will instantly switch to a mirrored server without any data loss.