Faster Loading PDFs with InDesign

Question
Is there a special way to save PDFs from Indesign so they load faster on the internet. My client has their pdf brochures online and it takes forever to load.
Answer
Yes there is!
When you export your PDF from InDesign, make sure you choose the Adobe PDF Preset "Smallest File Size" and check the box "Optimize for Fast Web View". If your PDF has any hyperlinks or book markes make sure to check those options to maintain them.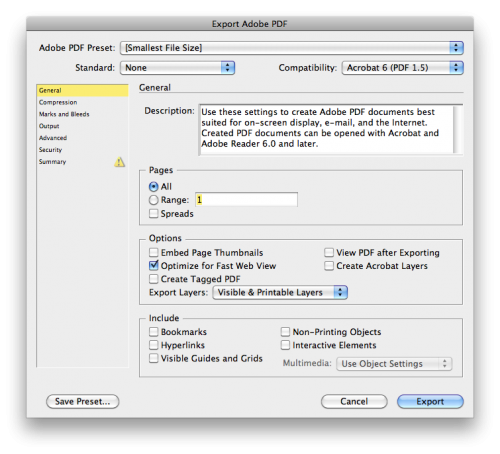 This should flatten everything (any layers you have in the document or layered Illustrator, or Photoshop files) into it's smallest PDF version.
If you already have a PDF completed, you can open it in the full version of Acrobat and go to:
Document –> Reduce File Size