How to Print Texts from an iPhone

Question
Is there a way to print texts from an iPhone?
Answer
Yes! There are several ways to do this ranging from free to spending a little cash.
Screen shot – Free
You can take a screenshot of your iPhone screen by pressing the "home" button and the "power" button simultaneously. It will put your screen shot into your Photos app. From there you can email it to your computer and print it.
Copy/Paste – Free
You can also highlight and copy your SMS and paste it into an email to your computer.
If you need to export SMS from your iPhone to your computer, you can download the free version of SMS export for your computer and then purchase the iPhone app for $4.99. Together you can export and sync your SMSs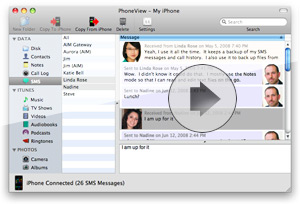 This solution is a little more costly, but it does have a lot of features:
Always Have Your SMS and MMS Messages on Hand: View and search your texts and multimedia messages, even when your iPhone isn't connected to your Mac. PhoneView automatically backs up your messages whenever your iPhone is connected. Messages can be exported as PDF files, text or XML.
Archive Your iPhone Voicemail: PhoneView provides full access to your iPhone's voicemail messages. Click to play or send them right to iTunes. What's more, PhoneView will automatically archive your voicemail messages for offline listening.
Call History Instant Access: View, search and export your iPhone's recent calls, even when your iPhone isn't connected to your Mac. PhoneView automatically backs up your call log each time your iPhone is connected.
Search Your Mobile Life: All data displayed or archived by PhoneView is automatically searchable. Quickly find old text messages, voicemail messages and more, all without leaving your Mac.
Your iPhone or iPad Becomes a Portable Disk: Drag Mac files and folders in and out of PhoneView. It's that easy. Data is copied to and from your iPhone or iPad's storage memory via high-speed USB. Even access app data for certain apps such as Air Sharing and GoodReader!
Full Contact List Access: Need to grab contacts from an iPhone, iPad or iPod Touch? PhoneView displays your entire contact list organized by contact group. Simply drag contacts to the Desktop to save V-card files or send contacts directly to your Mac OS X Address Book.
Mobile Safari Bookmarks On Your Mac: PhoneView gives you quick, simple access to your Mobile Safari bookmarks and web history. It even shows you the browser windows currently open on your iPhone. Easily pick up where you left off browsing upon returning home to your Mac.
I didn't see where this app said specifically that it would print SMSs, but I don't see why it wouldn't. It looks like a great solution if you have a wifi printer. In conjunction with DropBox, this seems like an amazing, functional app.
Print n Share™ is the first app that enables you to view, store & print email, documents, files, attachments, photos, contacts and web pages on your iPad/iPhone/iPod touch. Print direct to most WiFi printers, or to ALL printers and ANY document type via your Mac/PC, even over 3G – As featured in the Apple "Office" iPhone TV commercial