Adobe Illustrator pressure sensitive brushes don't work with my Wacom Tablet anymore!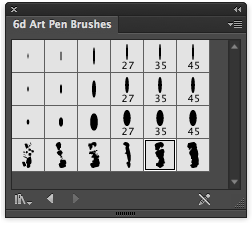 Question
I recently had to update my drivers for my old Wacom tablet due to a system upgrade. I was very disappointed to find out that my pressure sensitive brushes don't work any more in Adobe Illustrator CS5. I can draw with them, but they aren't pressure sensitive. Is there any way to fix this?
Answer
I don't know if there is a way to "fix" it unless Wacom comes out with an update for an old driver. But, the way around it is to use Wacom's built in brushes. Before the problem you could create a new brush by going to the Brushes Palette and selecting "New Brush", now you have to use one of Wacom's existing brushes from the library.
Go to Brush Libraries –> Wacom 6D Brushes –> 6D Art Pen Brushes
Double-click on any of the brushes or drag one into your Brush Palette use it.
Now you can double-click the new  brush from your Brush Palette and adjust it as needed.