Why I'm Increasing My Full Website Development Prices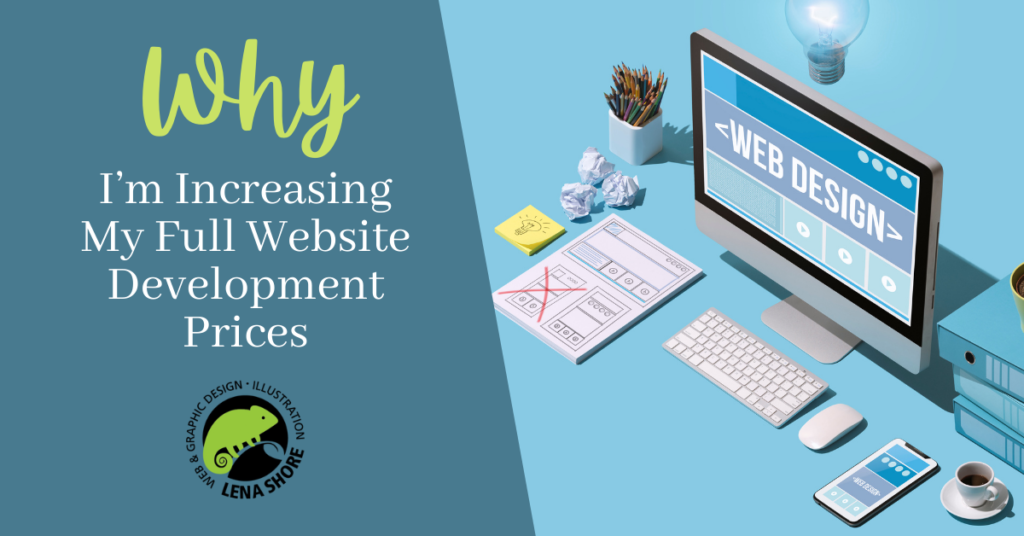 NOTE: if you are looking for the Accessibility article, you can find it here. I made a mistake in my newsletter with the link.
It's 2022 (where does the time go!), and with the new year often comes an increase in price. The problem is, you don't know the price increase is coming. Businesses will increase their prices and it would've been nice if you had a head's up in advance. 
So, in this blog post, I'm going to explain why my new website development prices are increasing in 2022 (because, to be honest, they really should), and when.
Let's get started…
How much will I charge for a full website?
The old price for website development starts at $1000. This was for a bare-bones "economy" site that rarely kept clients happy in the long term. (More on this in the following sections.)
An average client pays between $2500 and $3500. While I've been charging this much for the last 7 years, this rate has not reflected the technological advances and upcoming legal protections that a new website requires, and that a new website owner will definitely want.
Therefore, the new pricing structure will start from $2,000 for full web development. I expect the average price for full website development to be between $3,500 and $4,500.
That's a 25% increase from my current prices. That may sound like a lot, but below I've broken down the main reasons I've increased my prices. I want to be as transparent with you as possible, and explain why this is. 
I'm removing the lower-end web development offerings.
I am removing the Economy and DIY Headstart offerings. These were website builds with minimum design and features. But, it turns out that people always wanted to adjust their requests and ended up in the average price range anyway. By moving the price up front I hope to eliminate awkward conversations and disappointments down the line.
Additionally, so much has changed to make a good quality website in the last 7 years that I no longer want to offer a dumbed-down version of a site due to cost. I want to deliver a product that does the best job it can, and one we can all be proud of.
I'm serving fewer clients, but spending more time with each. 
I want every client to love the process and love their website. Having more freedom and wiggle room in my schedule allows me to do a better job. More time on my end means more comprehensive service for you. 
I'm always investing in knowledge and technology.
I invest heavily in my own education to keep up-to-date on the latest standards, techniques, and technology.
You don't see it, but I spend a lot of time testing new approaches, trying out new code techniques and exhaustive research that benefits all the websites I build. The internet is constantly changing, and continuing to provide great solutions requires constant dedication to research and testing.
A good website should be a living document. It should be updated as your business grows and changes. You want a well-built website that has good, quality functionality that will withstand the test of time. And you want to make a website that is easy to update when needed. Nobody wants to start from scratch if they don't have to.
Accessibility and ADA Compliance
All my new sites are being built with accessibility standards so you can attract and keep the 20% of the population that has permanent or temporary disabilities. That is a huge number of people (aka "customers"). Plus, good accessibility is great for your SEO and ranking too. It's a win-win.
Of equal importance are upcoming legal requirements that will mandate ADA compliance. Who wants to pay for their website to be built and then have to do it again in a year because it wasn't forward-thinking enough? Or even worse (and more expensively), face a potential lawsuit due to lack of accessibility?
I have a focus on making the internet accessible for everyone. For you.
When will the price structure change?
The price structure change will be completed by February 25, 2022.
Why am I justifying my price increase here? 
It would have been far easier for me to (silently) update my prices without writing an article about it—so why did I feel it's necessary to do this?
The honest answer is transparency. It's not easy for business owners to increase their prices and it's not fun for customers to pay more than they have done before.
I wanted to explain exactly why I have to change things. I'm not raising my prices 'just because', I'm raising them for valid reasons that should be important to all of us. And those reasons benefit you, the customer. 
My hope is that you continue to work with me, and that this transparency helps to build a long-lasting relationship with my customers.