Everything You Need to Know About My Graphic Design Services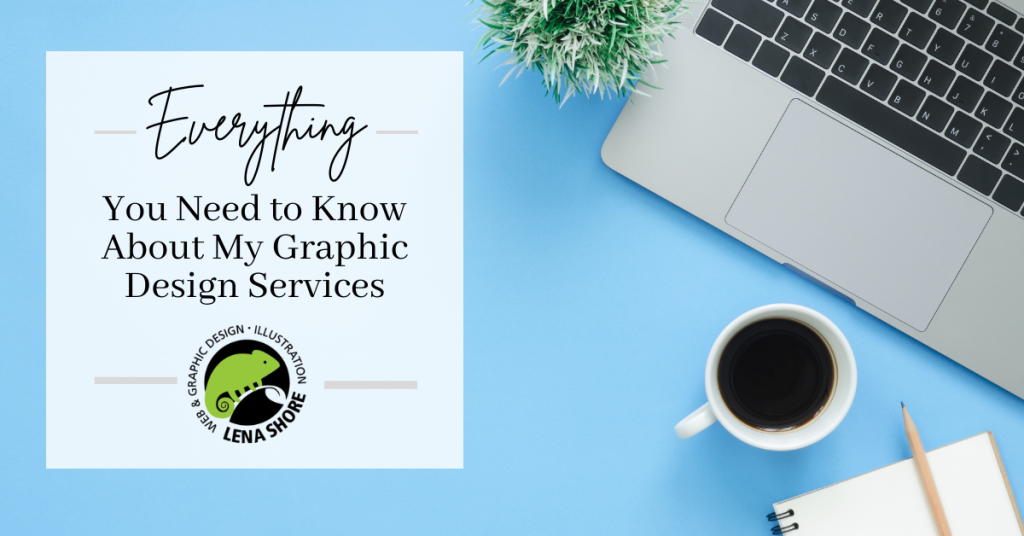 You may have noticed I offer graphic design services to help businesses make a good first impression with their existing and potential clients. However, I understand that graphic design is an investment of your time and money, and I also understand that there are other similar products or services out there too. 
So, I created this blog post to help you understand everything you need to know before investing in my graphic design services. 
I want you to make the right choice. This article is an unbiased look at my graphic design services, to make sure it's right for you. 
What is graphic design?
Graphic design is turning your marketing content into a pleasing and effective piece to share with customers. This could be creating a brochure, business card, logo, kit folder or other printed piece. It could also be creating graphics for blog posts, social media profile images, or your website.
Why do I offer graphic design services?
Short answer: I love it. I enjoy the challenge of taking logos, copy, and images and combining them into a professional and effective sales piece. It's a fun puzzle.
As an only child, my mom would keep me occupied by getting art supplies and teaching me how to use them. As I got older, I knew I wanted to do something in the creative field, and as soon as I learned you could get a job making logos, brochures and drawing stuff, I never looked back. I went to college and got my degree in commercial design and illustration.
What is included in procuring graphic design services?
Discovery
When we first talk, I'll be asking questions so I can get to know you and your business. If you need a brochure designed (for instance), I will want to know how you intend to use it in your business and any deadlines to keep in mind. I'll want to know if we need to match the new brochures to existing marketing materials and what items we might need to create, as well as what items we already have to work with. I'll need to know if you are providing the copy or if I should help you with a writer recommendation. I may ask if you've had any problems in the past with graphic design projects so we can address them beforehand.
An ounce of prevention is worth a pound of doing things twice.
Costs/Estimates
If you are a new client and don't know what to expect, you will most likely want a cost estimate for the work being requested. I will outline what we discussed from the discovery phase and create an estimate for you to review. 
Retainer
Once the estimate is approved, I'll send you a retainer invoice for 50% of the total cost of the job. This secures your spot on my schedule and ensures the work will be done when you need it. 
Organization
Once the estimate is reviewed/approved we will discuss the content and who will be in charge of supplying those pieces. For example, if you are providing the brochure copy I will want to know when you will deliver that to me so I can schedule work. On the other hand, if you need help with the writing, I can assist you with recommendations. Another example might be whether you have a high quality logo you can provide, or if you need me to recreate it.
Once organized, we will discuss the schedule and when you can expect a proof.
Design
After I have all the information and content, I can start designing your graphic design piece based on previous conversations we've had. I use industry standard software such as InDesign, Photoshop, and Illustrator to ensure that your finished product is built properly for any vendors we might use.
Approval
Once designed, you will receive a proof to review. You'll want to take this time to ensure there are no spelling or grammatical errors. Do you like the design? Does it represent your business? 
Adjustment
If the design needs adjustments, you will send back any corrections and comments. I will adjust those items and send you a new proof.
Printing
Once you approve the design, it's time to send it to the printer. I can provide you with press-ready files to send to the printer of your choice or I can handle the printing for you by getting competitive estimates from printers that specialize in your job type.
Payment Invoice
Final invoice for payment will include the balance of design costs plus any other fees accrued during the process like additional work (you approved) or printing costs.
What problems does hiring a professional graphic designer solve?
Getting it done right the first time.
I have a degree in graphic design and a background in printing. Years of working pre-press ensure I know how to build the file in regards to resolution, file types, color mode, bleed, etc. This avoids problems when it gets to the printer. The college degree taught me design techniques and how to handle criticism without taking it personally. You have not lived until you've had your professor ask you if you prepared your project with a broken beer bottle in front of a snickering class of fellow students.
Having the right software
As I mentioned before, I use professional industry standard software. The same software your vendors and printers use, so that we will be compatible with each other. No printer can do an outstanding job when faced with a bad file.
Speaking the lingo
Even with the best efforts sometimes there are problems once a file reaches a vendor. I can interface with them and fix the problem so you can focus on your work.
Recommendations
I work with many different types of professionals. If you need a specific kind of service throughout the process that I can't provide, I can most likely make a good recommendation. Examples of these might be a writer, videographer, or a photographer.
How much does hiring a graphic designer cost?
Obviously, this depends on the work needed. Shoot me an email or give me a call to discuss your project. Once I have a clear understanding of your requirements, I can produce a quote with all the details for you to make an informed decision. If you want a general idea of costs, you can hop over to my rate sheet.
Why is the cost higher than someone else?
Is this your brother's friend's cousin's kid you are talking about? Yeah, their price is always lower than mine. Probably because they don't have much experience or the right software. I get a lot of new clients from well-meaning but inexperienced hobbyists who for whatever reason didn't complete the job.
I am practically guaranteed to be more expensive than your friend's kid out of high school. But, I'm probably equally guaranteed to be less than your local advertising agency. We all have our niches. While I may not be a good fit for everyone, I am going to be a great fit for some. 
I base my prices on the going rates in my industry, effort to get the work done, and the time needed to complete the job. I probably fall in the medium to medium-high cost compared to everyone else.
And while that may seem vague if you aren't used to the industry, I can tell you that I am almost always able to give a firm flat-rate estimate. You'll know what it will cost rather than being given an hourly rate and no firm hourly estimate. Furthermore, hourly rates aren't a reliable judge of what you are going to get for your money.
Is there a refund/guarantee policy?
I have very few problems with unhappy clients because I do two things:
I try very hard to listen to your project needs and understand them before I get started. This eliminates a lot of communication problems. However, if you are not happy with what I've designed for you, we will keep working on it until I get it right.

I fix my mistakes at no additional charge to the client. (My mistakes. Your mistakes we'll talk about.)
Who is this for?
Hiring me as your graphic designer is not for everyone and I only want you to buy my services if it's right for you. What kind of client will benefit the most here?
Small or large businesses that understand the value of consistent branding.

Businesses that would like the benefit of an in-house graphic designer, but would like to pay for only the graphic design they need (and not have the overhead of another employee).

Any business that would like the benefit of a seasoned graphic design professional that isn't going to leave you hanging and who meets deadlines

You are in it for the long haul and want a relationship with your graphic designer. I love my new clients. But, I love my long-time clients even more. I love getting to know you over time and developing a friendship. Not only is it more fun, it makes the work so much easier when we know each other's businesses.
Who is this not for?
This is NOT for you if:
You enjoy designing things for yourself.

You want everything designed in non-standard software such as Microsoft Word, PowerPoint, Canva, or Publisher. These programs will never produce good results for professionally printed marketing materials.

You want to find the cheapest graphic designer you can.

You are too busy to finish a project in a timely manner. Most graphic design projects require the client to deliver items to get the job done, like copywriting, logos, or a special photograph. These things take time to acquire and that's okay, but a project started and left hanging for months is a recipe for disaster when people can't remember what needed to be done next. It is always better to wait until you

do

have the time to finish before you begin your project.

You don't value unique graphic design. I get it. There are some things that we just don't value and would rather do it ourselves instead of spending the money.  And that's okay. I'd love to have a sparkling clean house, but I don't want to pay someone to do it. 
How long will it take you to complete my graphic design project?
Graphic design timelines vary depending on my schedule and the size of your project. We will discuss both before we get started. Assuming I have everything I need to start your design project and a normal schedule: 
A small job like a business card might take 2-3 business days to design.

A medium-sized job like a brochure might take 3-5 business days to design. 

A large project like an annual report could take 2-3 weeks or more to design.
Printer schedules vary as well. Plan on the printer taking 7-10 business days for an average printing project and you'll be safe.
What will I need to get started?
Usage:

Know how you will use your finished piece and how many of them you may need. This can inform everything from physical size to how it gets produced.

Content:

This is the copy that will go on the piece, such as high-quality logos and photographs you want to provide. NOTE: I can help create logos and find stock photography if you don't have anything.

Retainer:

This is typically 50% of the total price of the design job. If you need printing, that will need to be paid before the press is scheduled.
Who will be doing the work?
Me and me. The only exception to this is if the project demands we bring in some additional help (writers, photographers, etc). I have plenty of people I work with regularly, and have been thoroughly vetted by me personally.
If you want to know more about me as a graphic designer, you can go here to the FAQs, or if you want something more personal, you can go to my about page here.
How will I receive the final graphic design files?
I keep extensive backups and archives for all of my client's jobs. But, if you'd like your very own copy of the final files, I can deliver them electronically to you.
What results can I expect?
You can expect professional level work that you are proud to display or hand out to your clients and potential clients. I will make you look good.

Reviews

Lena is so incredibly creative. I gave her what I thought was a good idea for my business logo, but then she came up with something completely original and so much more creative than I could have ever imagined! I would choose to work with Lena again and again, and so should you! —TRICIA RUDISILL BENTLEY, Public Relations
Amazing talent and team player. Working with Lena is refreshing. When we have ideas she listens and incorporates. When we don't know what we want, she can be trusted to come up with a concept that works well. Her pricing is fair. She is our go to designer. Highly recommended. —CYNTHIA GODBY, Hiatus Hideaway
Lena has a rare combination of reliable work habits and creative talent. With designers, you usually have to trade one for the other but Lena allows me to please my clients with great work, delivered on time. She has been an essential part of my own business success. —PATRICIA PONDER, Got Lucky Communications
Lena is a dream to work with. She interprets her clients' needs and direction efficiently and turns out good, clean concepts every time. —NANCY WHITE, Girl Scouts of Gateway Council
How do I sign up/buy?
Now that you know everything about hiring me for your graphic design, you might be ready to fill out my "hire me" form to get an estimate on a particular project.
There you go. This should be everything you need to know about my graphic design services, and I hope it helped you. As a reminder, here is where you can request my graphic design services.