Question
I need to make a quick voice recording on my computer. Is there a built in way to do this? How can I make a voice recording on my mac?
Answer
Your easy answer is QuickTime Player. It comes installed on your computer.
Launch the program
Go to File –> New Audio Recording
Click the red button when you are ready to record
Your file will automatically save itself based on the preferences of your program. You can also do a "Save As" to save it somewhere else.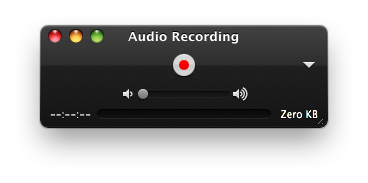 This will save your recording as a .mov file. If you need another file type, you can do a google search and find plenty of free shareware converters.
If you find your needs are more complex, take a look at Garage Band. It is very feature rich.