Things: Software by Cultured Code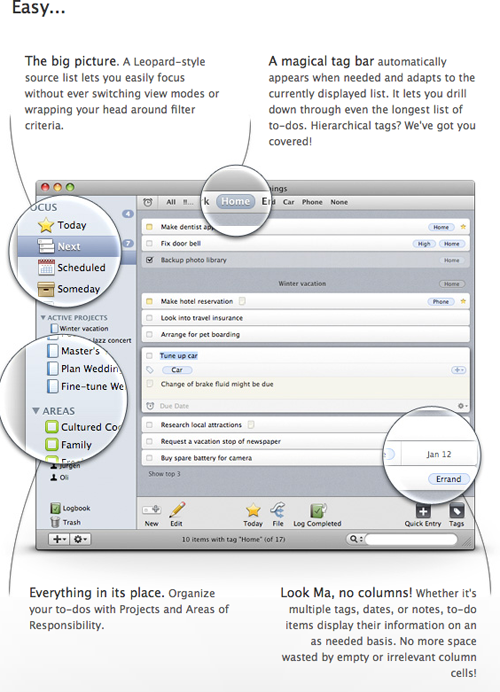 First, I purchased Things by Cultured Code for Macintosh with my own dollars. Second, I didn't get paid for this review. Heck, they don't even know I'm reviewing it. Third, I love this application so much, I must share. I think it is brilliant.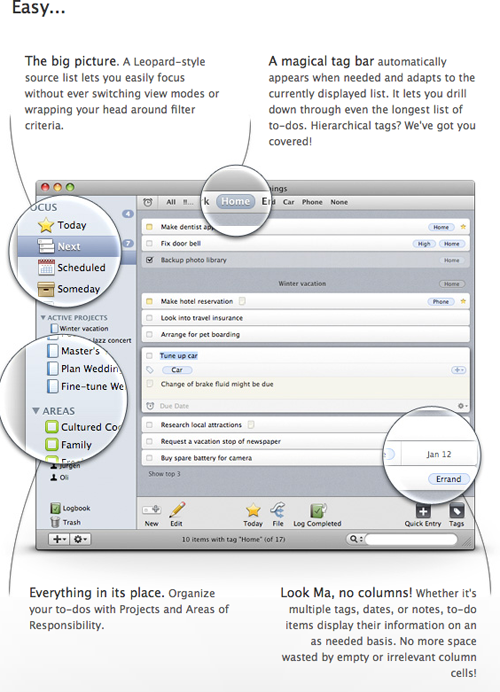 I purchased Things maybe 6 months ago or so. It has become a great help in the organization of my daily life. There are frequent and timely updates and it works like a dream. Watch their screencast video below to get an idea of what it is all about.
They also have an iPhone version that syncs with the desktop. This is fabulous if you think of something while you are out, you can just make a note and then everything will sync up later.
What I really love about this program is it's ability to be scalable and customizable. After all, none of us like to organize exactly the same way.
How I use Things:
I have it automatically start whenever I boot my computer and sync to my iPhone daily.
I use it for my daily tasks by creating an Area for each day of this and next week. This allows me to easily schedule jobs two weeks out on the fly. I can do this quickly on the phone or when an email comes in.
There is a key-command you can use whenever you have something highlighted on your computer. Just highlight and hit the key-command and you get a pop up asking what area you'd like to put the snippet. Bonus: If you are in Mail, it will also put a link to that email in the notes area. If you are in your browser, it will place a link to the website you are on. You can also drag and drop files into Things for quick links to find documents.
I keep a list of people that I have assigned tasks to or need to interact with.
Each day, I take all of my projects for that day and mark them "Today" and they appear in the list for today. I arrange them with a quick drag and drop and then check them off when finished.
I also make use of scheduled tasks. Anything that repeats every day, month, year, etc. can be scheduled so you don't forget. When it's due date comes around, it appears in your list of Today items.
Things is also excellent for projects. There is a huge list of items that need to be done for particular projects (like web site design) each and every time. I can make a list of 100 items, place them under "web site checklist", and then when I have a new project I'm starting – I just copy the project and all of its to-dos and rename it with my project name. This way, if I think of something I want to add to the process, I can – and won't forget next time. I have an instant list of everything that needs to be done.
Items grey out as you check them off. You can still read them, but you definitely know you finished them. You can leave them that way so you can see what you've accomplished that day, or have Things file everything that is checked off. The only exception to this is the Active Projects. They will stay gray and you can't delete them until your entire project is finished. When I discovered this, I realized it made sense and was happy they did it that way.
When I first got Things I felt it was pretty easy to use, although it did take me a few days to figure out my own personal brand of organization with it. I had a few questions and found that they have a great FAQ, Wiki, and Forums. I ended up emailing them for a very specific question and was pleased to find them very responsive and friendly – within an hour I knew my answer.
If you need to organize your life a bit whether it is at home or work (or both), Things is a great product. They even have a fully functioning demo. You have nothing to lose! Actually, if you use Things, you probably won't lose anything again!
I give this product five out of five smiley faces! 🙂 🙂 🙂 🙂 🙂