Part 1: Electronic Newsletters — How they work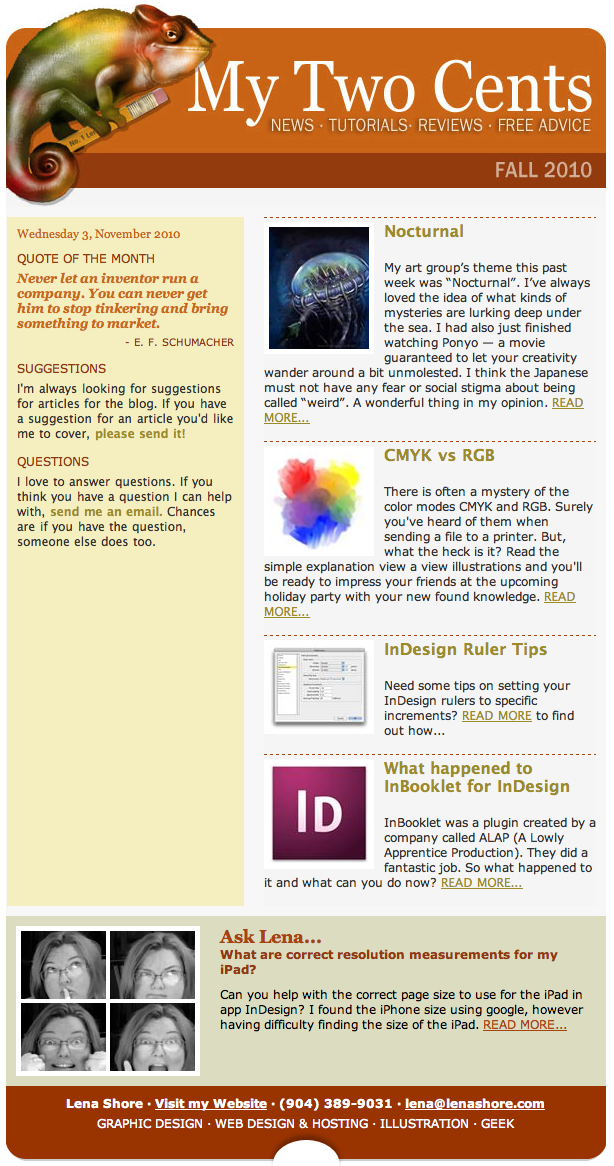 They go by many names… electronic newsletters, eblasts, email mailers, ezines and e-newsletters. You probably already get your share of them in your inbox. Some of them you enjoy, some of them you never signed up for and wonder how they got your name.
Whatever name you want to call them, the process is pretty straightforward:
Draft a letter
Send it to your customers
How do I create one?
Creating an email draft can be as simple as typing an email. Examples of more complex e-newsletters might include matching your website or have many stories and pictures.
Do it yourself
If you have some HTML skills and understand the rules of e-newsletters you can create one yourself.
Create the HTML
Store the images on your server
Do some email browser testing
Send your email
Have a web designer help you
With a little upfront investment you can have a designer help you. They can create a template for you to use inside a mailing system. The template can match your website, include your logo, and basic contact information. The idea is for it to include everything you want included each time you send your email.
Having all of this done ahead of time makes it easy to send and create your emails. All you have to worry about is typing your message and hitting "send".
How much does it cost?
The template development costs will dictate the cost. Talk to your designer to get an estimate and to discuss your needs. Mailing systems are pay-as-you-send. You pay for only the email addresses you send at a couple cents an email. It's very inexpensive.
Why can't I just use my email program instead of a mailing system?
If you are only sending to twenty people, you could get away with using Outlook (or other mailing program on your computer). But if you have more than that, you can start running into problems.
Your ISP might shut you down. Major ISPs (Comcast, Bellsouth, etc) are always on the lookout for spammers and will often limit your sending to a particular number of recipients at a time. Once you go over that, they will block your email, or shut it down for a period of time before you can resend.
Bouncebacks aren't taken care of. With a mailing system when you send something to an email that is bad, it will bounceback to you. (Requiring further effort on your part to take those addresses off the list. A big deal if you are sending to thousands of people and have hundreds of bouncebacks.) If you use a mailing system it will silently remove it from your list, keeping it clean.
You have a greater chance of hitting someone's junk mail. There are many variables that determine whether your email will hit someone's junk mail folder. A mailing system and good template eliminate many of these. The singular act of carbon copying your email is enough to send it to many peoples' junk mail. Mailing systems send each email individually.
Time is Money. By the time you sort your lists, set up your email each time, and take care of bounce backs you could have helped a customer or cleaned out a chunk of your filing cabinet. I have personally sent bulk emails with my desktop mail program in the past. It was so not worth my time.
Okay smarty pants. Why SHOULD I use a mailing system?
Scheduling: A good mailing system will let you schedule your emails at a future date. This gives you the flexibility to write it when you have time and schedule it to send when you want.
Auto-reponders: You can create emails that are triggered by a particular date or a subscriber joining your list. Wish you could send out a "happy birthday" email to your clients on their special day? Set up an auto-responder and you won't forget. (Well, your auto-responder won't, anyway!)
List management: Keeping up with your mailing lists can be tedious… but not with a good mailing system. You can keep a signup form on your website for people to sign up — automatically. If someone gets tired of getting your email, they can unsubscribe through that email by clicking the unsubscribe link — automatically. When someone changes their email address and their old one is now defunct, a good mailing system will delete it from your list — automatically.
Uploading your email list to the system is easy to. Just a couple of clicks and you're done.
How often should I send a newsletter?
The key here is to pick something you can stick to and be consistent. For me, it's once a month. It seems like a good time frame and it doesn't overload anyone's inbox.
But you may have weekly specials or something else that would make your needs different than mine. Take some time to think about how much time you have, what you want to say and how often you want to say it. Answering those questions should help you figure out the perfect time frame.
Where do I get emails?
Your emails need to come from your customers or interested parties. These are emails you collected at trade shows, in your business, requested by email, etc. Not purchased lists. It's not just a good idea, it's the law. In case I wasn't clear about using purchased lists…
What about purchasing email lists?
Don't do it.
First, those lists are notoriously out-of-date. Second, they aren't focused to your clients and will be a waste of your money. And finally, no good mailing system will allow you to use them. It's against the law and can cause your website to be shut down if you are tagged as a spammer.
This is the first part of a two part article. Click here to read Part II: Electronic Newsletter — Why you should consider using them.